education
From Roots to Rainbow
June 13, 2019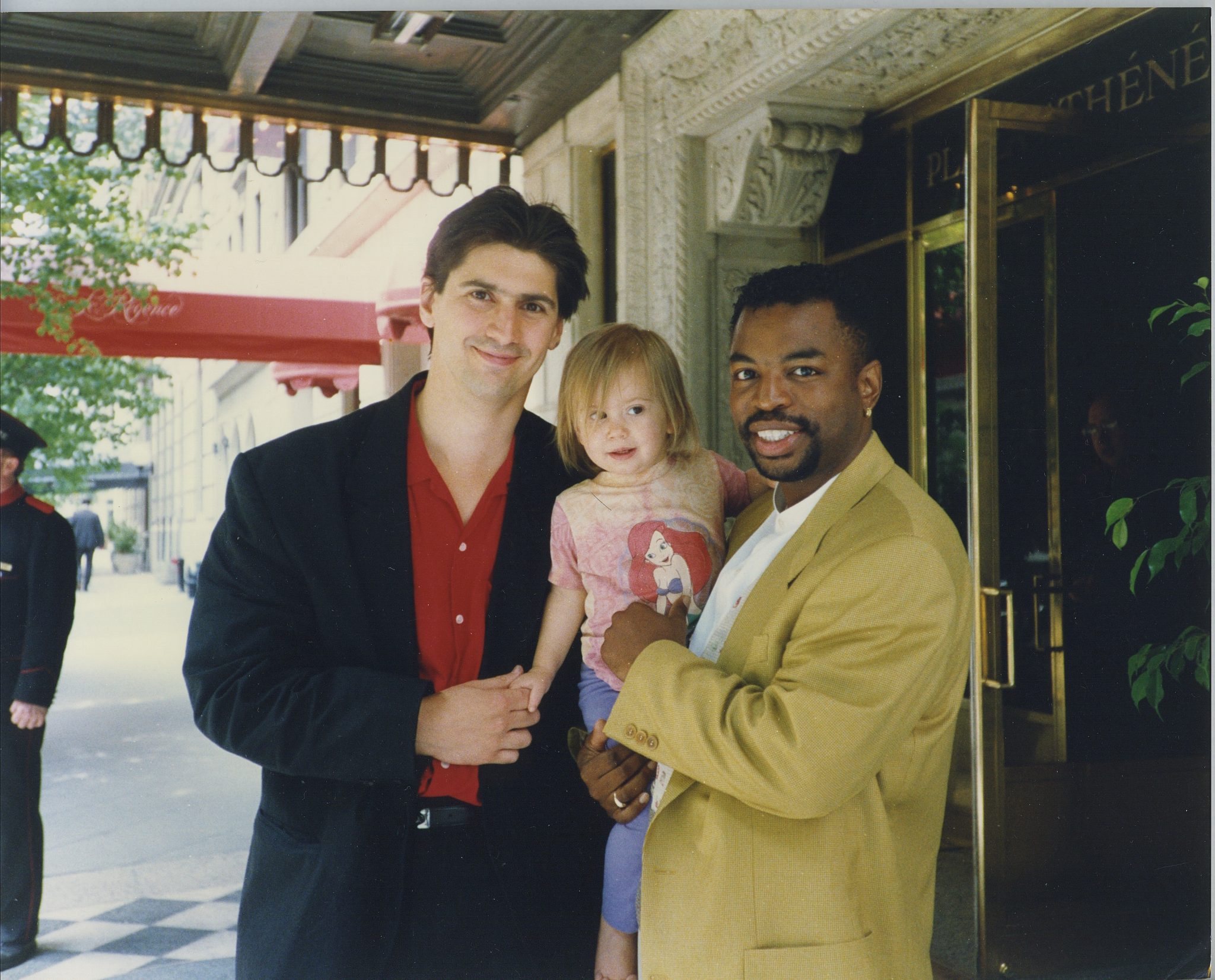 Me and LeVar holding my daughter a bit of time ago.
Most middle school students today weren't born when Reading Rainbow went off the air in 2006 (though old episodes can be found on You Tube and new episodes may even be coming back soon: https://www.readingrainbow.org/). Most of the books read on the show were for younger readers, and it was a formative experience for my kids when they were just starting their adventures in reading. When I was young, Roots and Star Trek helped me realize that there's a lot more to our past and our future than is commonly taught in schools.
With Roots, we discovered that African Americans did not just show up on American shores, but were dragged kicking and screaming in chains. When they couldn't break those chains, they defied them by preserving what they could of their past and forging a new culture that eventually changed the culture that enslaved them. Roots reminded African Americans of their agency and power by reviving the integrity of their past. Those ten hours of television gave all Americans a reason to feel inspired by what some Americans had to go through just to be able to call themselves by that name.
Star Trek took the future away from the pessimism caused by a corrupt government and a population divided by politics, racism, poverty, and all the insurmountable issues that would make anyone flinch at the thought of how bad things were destined to get. Star Trek, just by existing, gave us hope. It showed that a society made up of very different individuals could exist better than a society that isolated itself. Great science fiction is always about the present day, and Star Trek's message to us was hold on, be bold, tomorrow will be better than today.
At the heart of all three of these shows is LeVar Burton (host of Reading Rainbow, Kunta Kinte in Roots, and Geordi La Forge in Star Trek: The Next Generation). Before I was a teacher, I was a journalist and I had the opportunity to talk to LeVar and tie all these wonderful influences together. Here is an excerpt from that interview that I think we can all apply to our classes and our lives:
"As a young black person, I did not see myself on TV at all. I didn't really see a young black male on TV until I was well into my teens, until I saw myself acting in Roots. Roots helped all people, particularly white people, understand what the cultural context of African Americans has been. Viewers might relate to Kunta Kinte or Chicken George because an intimacy was built up through TV. Star Trek does that, too. You take diversity for granted on the decks of the Starship Enterprise, not only racially, but also just different types of people. Mae Jemison, the first African American woman to go into space, told me that one of the reasons she became an astronaut was because of the original Star Trek. Nichelle Nichols' Uhuru was one of the very few black women on TV and she was someone of accomplishment and responsibility. This is an example of how Star Trek has advanced the planet. Mae Jemison, this little black girl growing up at a time when there seemed to be very limited opportunities for black children, saw Star Trek on TV, and she dreamed her dream to become an astronaut. That gives me goosebumps. Many episodes of Star Trek are about man's spiritual journey, what makes us human, what is our purpose, what is our destiny. In Roots, when Kunta is born, his father lifts him up to the night sky and says, "Behold the only thing greater than yourself." Kunta Kinte in space seems right to me." A human journey that starts in knowing our Roots of where we came from in the past over a Reading Rainbow of learning about living with ourselves and each other to a Star Trek into a future of promising possibilities. That seems right to me.