education
Jordan O.'s Guest Student Blog
June 8, 2019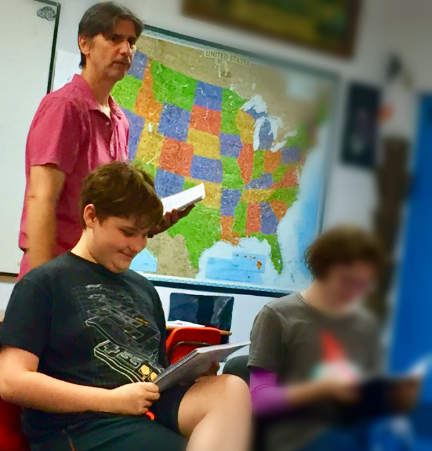 From eighth grade student Jordan O.
Last year in my Humanities class, I had Stuart as my teacher. His methods for teaching were both unusual and fantastic. He used a collection of books he wrote to convey what he was teaching in a unique and interesting way. These books deliver history in very fascinating and distinct way that gives a sense of the times and culture for the subject period.
Time Travel Tours: Your Guide to World History put world history into easily the most interesting frame that I have ever experienced. It tells the story of humans through the eyes of a time travel tour-guide telling an audience about various major events in history. With the class structured mainly around this book, my peers and I learned and retained information about early history by visiting Mesopotamia, the Romans, the Native Americans, the Egyptians, and the Chinese. None of that would have been half as interesting if it hadn't been from the perspective of a sarcastic time traveler looking back. This was a phenomenal experience.
His book on American history, American Hero, is possibly his most ingenious educational book yet, as it follows the story of a rebellious teenager and paints a vivid and memorable picture of hundreds of years. The fact that this medium is so seldom utilized in education is quite disappointing, making this book a very rare and valuable addition to any classroom.
Stuart Matranga's class is not one to forget, and I will cherish the memory of his exemplary teaching style and fantastic books for many years to come. I would recommend him and his works to any classroom with only the highest of praise. In short, these books are both equally genius.