education
Holiday Book Recommendation: The American Story, Second Best Gift on U.S. History
December 17, 2019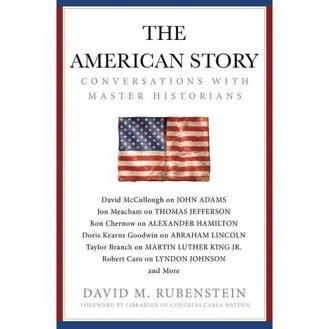 We're getting into the red zone of holiday present panic. You're going down your check list. What do you get for a 15 year-old girl? Does Uncle Harry need socks? Grandma says she's done buying gifts—but says that every year and gives them out anyway.
The best possible gift anyone could ever receive, of course, is a full set of Midgard books. Obviously. But say you've already given out American Hero and company to everyone you know, yet still like the idea of books. Let's look at the next best fantastic selection for the history fan (no offense to the rest of y'all, but history is what we do).
Better than the history of the Gold Rush or the Era of Good Feeling or Herbert Hoover's dog, The American Story by David Rubenstein is a brilliant compilation of interviews with historians about a myriad of subjects. Based on a series of live interviews Rubenstein conducted with master historians before an audience at the Library of Congress, the purpose was initially to alert politicians to historical influencers "with the hope that, in exercising their various responsibilities," as he writes in the Introduction, "our senators and representatives would be more knowledgeable about history and what it can teach us about future challenges."
To that end, Rubenstein lined up the all-stars of American historians, each of them talking about subjects that they have poured their life into. Doris Kearns Goodwin on Lincoln, Taylor Branch on MLK, Jon Meacham on Jefferson, Ron Chernow on Hamilton. The book is also a great way to get the best thinking about critical figures without having to buy all the biographies.
In fact, the book is so good that we anxiously await sequels that get more into the warp and woof of American history as represented by the women, African Americans, Native Americans, Hispanics, Asian Americans, and immigrants, who we're sure will be discussed in Rubenstein's future books. Until then, though, our bundle of American history books, American Hero, First Person American, and The U.S. Constitution: An Owner's Manual will have to do.