American Hero
Illustrated Secrets of American Hero
May 31, 2019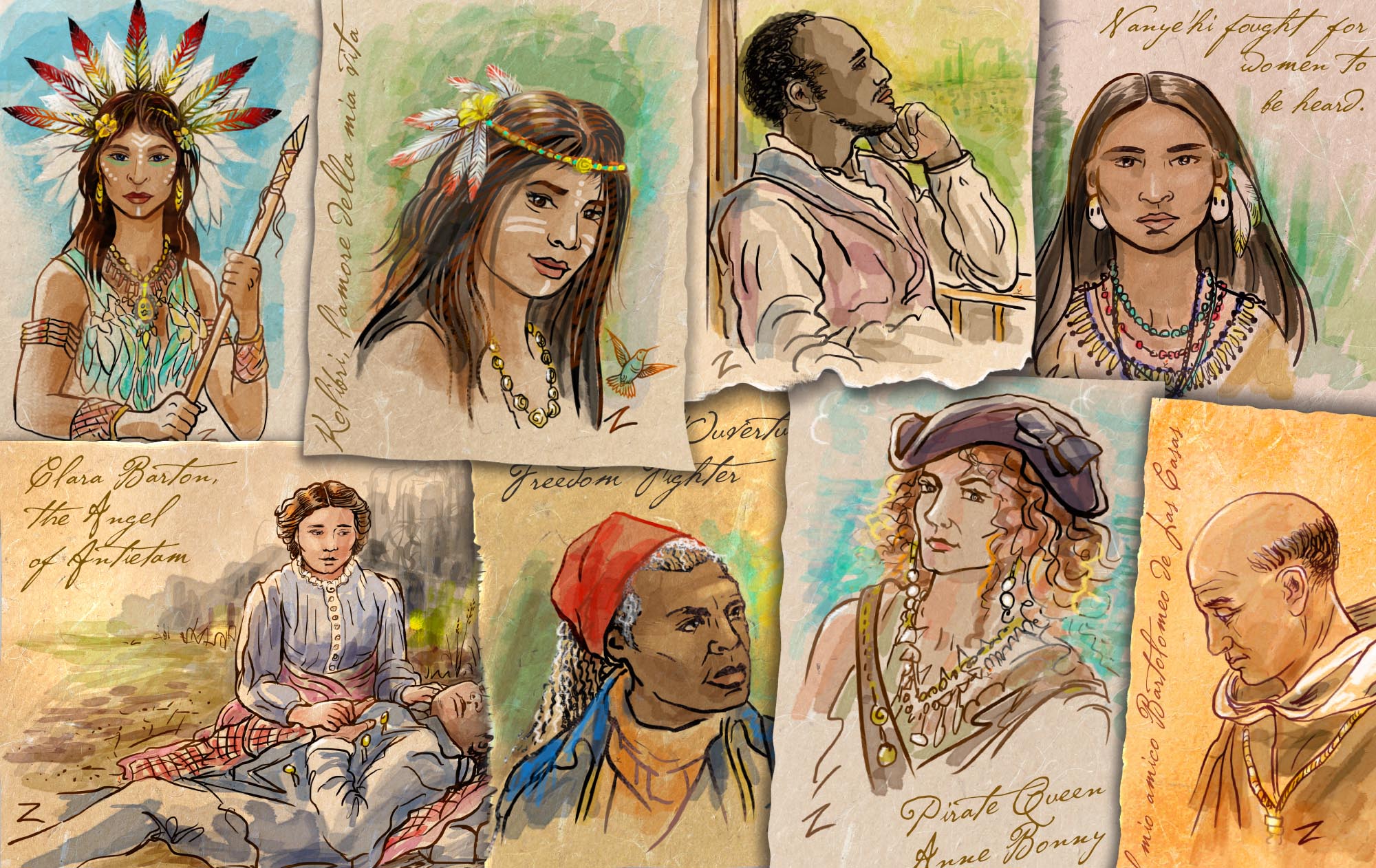 By Karen Viola
American Hero was as much a treat to design as it is to read.
Readers are treated to an exciting 400-year adventure through the eyes of an immortal being, the Zemi. Inspired by this premise, the book is designed to look like the Zemi's treasure-trove of journal notes and ephemera collected through the decades, assembled into a book in hopes that the rest of us will learn a thing or two. And be grateful we didn't go through what he did.
So here's a secret from behind the scenes at Midgard: The team decided that the Zemi had a propensity for portraiture, and since I know how to draw, that I would get to BE the Zemi, by way of occasional quick ink and watercolor sketches. Signed with a big Z. But it's really me.
There were a few things to consider, such as which heroes of history would be my/his subjects. After photo-researching and discovering all the people and events that mattered enough to merit numerous artistic depictions, the answer was clear: the unsung ones. Because they matter just as much, if not more, which is one of my key takeaways of this American Hero story. His/her/their story. Our story.
Representing a factual, physical appearance was impossible for some of the sketches. But by weaving together what reference could be found and considering what all these people stood for, perhaps something of their true spirit 'hovers and darts about' the pages, as does the spirit of Kolibri (a word for hummingbird), the love of Zemi's endless life and the only fictional character, besides the Zemi, in the book.
The Zemi first meets Kolibri right after landing with Columbus on Hispaniola Island. Stuff happens. From century to century he looks for her to show up once again in physical form. No more spoilers… but here's another secret: Every time the Zemi thinks about Kolibri or senses her spirit in various female American heroes he meets such as Weetamoo, Anne Bonny, and Sacagawea, readers can find a hummingbird on the page.
The whole truth about a person, place, or event cannot be told from one point of view. So as publishers, illustrators, and educators we have a responsibility to research as many authentic sources as possible to present a balanced, inclusive account. Equally important is making the presentation an irresistible, sustainable adventure that sparks conversation and critical thinking about what these stories from the past mean for our present and future.
As a practicing artist I often enjoy sketching from life—in my real life as me—though my subjects tend to be trees, who also stand witness for longer-than-human lifespans. But channeling an immortal dude searching for 400 years for his lost love? That was way too cool a gig to pass up.
The illustrious Zemi must've had a fair amount of free time in between wars and conquests to hone his mad skills. I only hope I did him justice.